Meet Helen Oliveri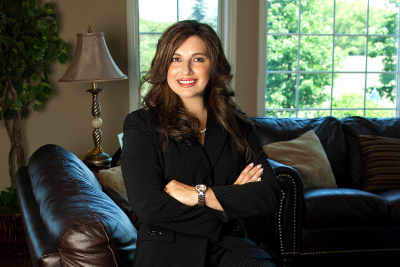 "My priority is accomplishing your real estate goals. I'll do whatever it takes to exceed your expectations. I promise to work tirelessly to ensure that you are completely satisfied."
~ Helen Oliveri
Few things are more important than your home. Home is where the heart is, where your family gathers, where you feel you belong and where you live your daily life. It is for these reasons that Helen Oliveri works passionately and tirelessly to help you accomplish your real estate goals. When it comes to selling your home, Helen's proven track record filled with awards and recognition will assure you top dollar in the shortest time. She is a 13 year veteran with the knowledge and skills to help you navigate through the complexities of the real estate process.
Helen's philosophy of caring for her client's needs and desires above all else has led her to great success. She has been named one of the top 100 most influential real estate agents in Illinois, ranks in the Top 20 for Chicagoland Agents by Chicago Agent Magazine, recognized in Who's Who by Chicago Agent Magazine and consistently ranks in the Top 250 Teams Nationwide by transaction sides for the Wall Street Journal and Real Trends. With almost 2,000 homes sold in her career, it's no wonder that Helen has been recognized as the #1 Agent on the North Shore and Northwest Suburbs for Keller Williams Realty, #1 in Mid-American Region for Keller Williams International and ranked in the Top 25% for Keller Williams International comprised of over 120,000 agents. Most recently Helen's commitment to our community earned a nomination by the Village of Hawthorn Woods for Business of the Year 2016 with the Lake Zurich Chamber of Commerce for the entire area. She recognizes that she couldn't have reached these achievements without the principals she holds dear of making her clients her #1 priority.
No one knows Hawthorn Woods Country Club better, because Helen lives there and loves it. As a community supporter through her work with the Village of Hawthorn Woods, the Caring Women's Connection and more, Helen believes in giving back to the community and her clients that have supported her so strongly. It is her immersion in the communities of Hawthorn Woods, Long Grove, Kildeer, and Lake Zurich that makes her the local expert. She is a market leader in all of these areas and extending through all of Lake County and Northern Cook County, specializing in Morton Grove, Glenview and the surrounding neighborhoods. This expertise assures you the most accurate local real estate information, trends, listings and market analyses.
Real estate is an ever-changing market. This is why Helen insists on staying abreast of new technology and innovation to stay ahead of the curve. Starting with her 2 wireless, paperless, state-of-the-art offices conveniently located in Hawthorn Woods and Morton Grove, we have access to cutting edge digital marketing, electronic signing capability and incredible communication platforms. Helen is at the forefront of technology in today's up to the minute digital age. She assembled Helen Oliveri Real Estate by hand picking the best of the best to support her in providing top of the line standards to exceed client expectations.
Helen's hands-on leadership ensures that every detail is addressed with care and professionalism. She takes pride in providing constant, personal communication, first-class service and a goal oriented work ethic. She stops at nothing to make sure each client becomes one of her "raving fans" and is 100% committed to helping you achieve your real estate dreams. Without reservation, Helen Oliveri is Your Best Move in real estate!
Awards & Recognitions
REAL Trends America's Best Real Estate Professionals - 2017
Excellence in Action Service Award from Hawthorn Woods - 2018
Nomination for LZACC Business of the Year by The Village of Hawthorn Woods - 2016
Top 20 highest producing agents in Lake County for 2016 - Chicago Agent Magazine
100 Most Influential Real Estate Agents - Illinois 2016
Keller Williams International - Triple Platinum
Keller Williams International - Double Platinum
Keller Williams International - Platinum
Special Recognition from KW – Mega Agent Office 2016 – Hawthorn Woods Location
Best of Trulia Top Agent (2013 - 2014)
Wall Street Journal - Top 250 Nation Wide - Real Estate Trends Best Real Estate Agents (2011 - 2016)
Pinnacle Award Invitee (2013)
Chicago Agent Magazine's Who's Who in Real Estate (2011 - 2013)
Chicago Agent Magazine's Top Producer (2009 - 2013)
Top Agent Magazine Feature (2011)
KW Family Reunion Speaker (2010)
NSBAR's Mini Convention on the Top Agent Panel (2009)
Keller Williams Mid-American Region – Top Sales Group – July & Aug 2016 (out of 5 states and thousands of brokers!)
Special Recognition from KW – Mega Agent Office 2007 – Morton Grove Location
Keller Williams Realty Partners -Top Listing Team – (2007-2016)
Keller Williams Realty Partners - Top Closed Units Team – (2007-2016)
Keller Williams Realty Partners - Most Contracts Written – (2007-2016)
Realty Executives Magazine Feature (2006)
Coldwell Banker President Elite (2005-2007)
Helen has two state-of-the-art offices for comfortable and efficient business settings perfect to serve both Lake and Cook counties. Please make sure to visit us to see how we can help you make Your Best Move!
Helen's Hawthorn Woods Office

101 W. Gilmer Rd.

Helen's Morton Grove Office

9406 Waukegan Rd.
To talk about your real estate goals, call 847.967.0022 or email us today at

[email protected]

!